December 10th
Nothing cosier in the winter than a roaring log fire and a glass of something warm. Depending on the
Christmas tree decorating with my
family and drinking mulled wine
time of day of course it could be a cup of tea, a milky coffee or my favourite Gløgg. Gløgg is the Scandinavian version of mulled wine, it tends to be sweeter and therefore I think more warming. Always ask a Scandi what they have in their Gløgg as many add dashes of vodka to it too!
There are many versions of Gløgg on the net and in the huge number of
hygge
books that have hit our shelves this past year, so instead of the very traditional I share with you three variations, the first is particularly delicious and encompasses all that I think is right about Gløgg. Huge kudos to Signe for coming up with this one. The second is a huge variation on a theme but may appeal to those not so keen on the heaviness of a warmed red wine and is in fact a white based Gløgg, it's good, but for me there is nothing that beats the red wine versions. The last recipe I share with you today is a quick version that can be drummed up straight after work for that much needed pick me up, I'm too tired for Christmas but need something to get me in the spirit drink, then this is it. Created by Food Truck owner Rhonda from
Sixes & Sevens
, do give this one a go.
Cook the Perfect…Triple Cherry Gløgg
recipe from the fabulous Norwegian born Signe Johansen as heard on Radio 4 Signe on Radio 4




Triple Cherry Gløgg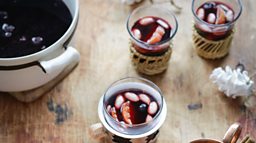 Triple Cherry Gløgg
Serves 10 in heatproof glasses or cups
For the Spiced Sugar Syrup
100g golden caster sugar
10 cardamom pods, crushed
5 whole cloves
3 peppercorns
3 star anise
1 cinnamon stick
1cm piece of fresh ginger
1 long strip of unwaxed clementine rind
(or citrus peel of your choice)
For the Cherries
150ml cherry cordial
150ml cherry liqueur such as Cherry Heering
100g dried sour cherries
75cl bottle of light red wine
such as Beaujolais
To Serve
2 organic clementines,
peeled and sliced into discs
100g blanched almonds
Cherries have a particular resonance. They remind me of summers spent at my grandparents' fruit farm on the west coast of Norway. I can conjure up their intense flavour even on the darkest of midwinter days, and I enjoy nothing more than sharing that experience with friends and family with a glass of this Triple Cherry Gløgg—it's dark, rich, sweet and sour all at the same time.
To make the spiced sugar syrup, heat the sugar in a small saucepan with 100ml water. Turn off the heat as soon as the sugar has dissolved. Add all the spices and the citrus peel, cover and allow to infuse overnight or for at least a few hours.
Do the same with the cherries (but without heating them). Place all the ingredients in a bowl and leave
covered overnight.
When you're ready to serve the gløgg, place the syrup and cherries in a large pan and heat gently. You do not want to boil this under any circumstances. It should be just hot enough so there is a little steam coming off the liquid but nothing more. I like to leave it on a low heat like this for about 20 minutes so all the flavours infuse together. Place one or two clementine slices in each glass or cup along with a couple of almonds and then carefully ladle in some of the gløgg. Serve while warm.
Tip: It's definitely worth making a large batch of spiced sugar syrup as it features in other recipes in this chapter, so double or triple the quantities for the syrup and keep what you don't use for the gløgg in the fridge in a sealed, sterilized glass container for up to 3 weeks.
from the fabulous website of Norwegian Paul:
Sweet Paul
You will need:
zest of 1 lemon (without the white pith)
1" piece peeled ginger
1 teaspoon cardamom
1 teaspoon ground cloves
2 cinnamon sticks
1 bottle white wine
1⁄2 cup apple juice
1⁄2 cup sugar
1⁄2 cup Calvados (optional)
nuts and raisins for serving
Put the lemon zest, ginger, spices, white wine, apple juice, and sugar into a pan.
Heat gently until steaming but not boiling.
Taste—add sugar if you prefer a sweeter drink.
Sieve the spices off and add the Calvados, if wanted, or alternatively you could use brandy or applejack.
Pour the drink into glasses. Serve with nuts (like almonds) and raisins.


[Text+recipes+food styling by Sanna Kekalainen]
Mid Week Mulled wine
from DC Food Truck:
Sixes & Sevens
Mid week Gløgg
Boil 330 ml water and 4 tbsp of brown sugar
Throw in whole cloves
Sprinkle black pepper
Sprinkle ground ginger
Sprinkle ground nutmeg
1/8 tsp all spice
1/8 tsp cinnamon
Squeeze the juice of 2 clementines
Add 500 ml red wine
Strain through a tea strainer and serve in tiny Christmas cups and enjoy!







You can of course make the trek to Ikea and buy their ready made bottle of Gløgg and often I bring back my favourite ready mixed version from Norway, all that is needed is the addition of red wine and perhaps that Scandi dash of vodka, hic!
♥
Wishing you a warming Christmas time
♥